We are delighted to announce our latest partnership with local accessories brand, Fernweh. Together we are releasing a limited-edition bespoke backpack, inspired by a shared appreciation of craftsmanship and moments that matter.
Fernweh was launched in 2014 by Laura Sherriffs. With a Fashion Design degree from Gray's School of Art and an enthusiasm for the great outdoors, she decided to bring her two passions together to create a series of stylish handmade chalk bags, which are traditionally used in climbing. Her work now includes collections of backpacks, clothing, lunch bags and leather goods.
Our partnership has seen Laura create a patina-ing waxed cotton and leather bag. The design draws inspiration from the environment at Tomatin Distillery — a palette reflecting the Scottish Highlands in hues of bracken, sand and ink blue — and the rich and earthy tones of our single malt whisky.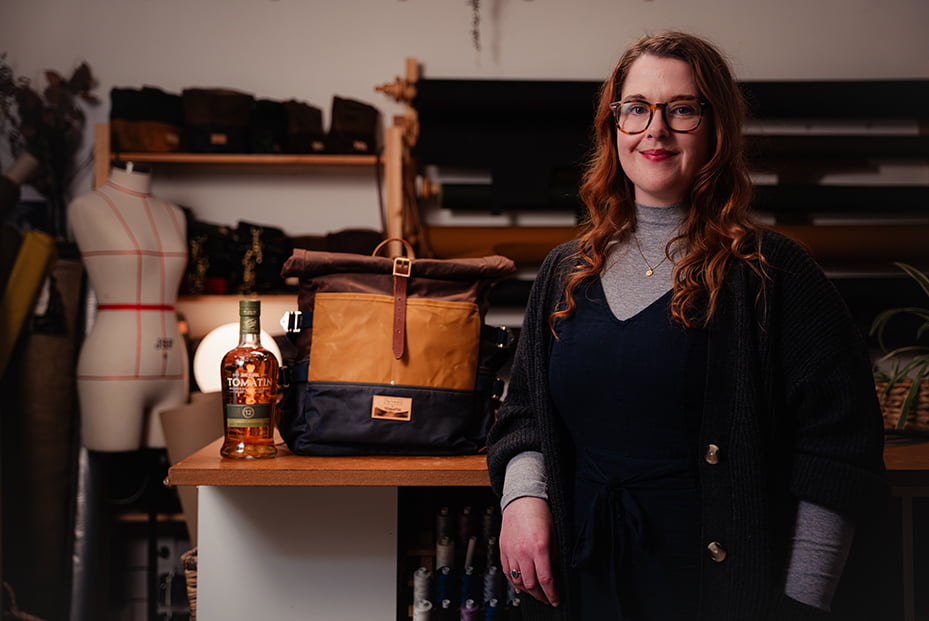 Highlighting the natural synergies between Tomatin and Fernweh, the collaboration celebrates our shared visions around savouring moments that matter.
Explore 'To What Matters' to see more about our belief in discovering what is truly important in life and enjoying time spent together.


The limited-edition Tomatin x Fernweh backpack is available exclusively from our online shop and Visitor Centre at the distillery (RRP £385).
"This project has been hugely exciting as I've had the opportunity to draw inspiration from quite a unique location in the Tomatin distillery and the stunning environment which surrounds it.

"For me, To What Matters means spending time in the great outdoors, going on adventures and having a passion for exploring. It was important for me to create a bag that takes you from an urban location straight to the hills with a dram by your side; it's all about finding special moments to appreciate wherever you are."

Laura Sherriffs, Founder at Fernweh
"We're delighted to be working with a local craftsperson, who fully understands our vision and appreciation of craft, Scotland and the magic which is made here. We wanted to capture the essence of the Scottish Highlands, its history, nature, landscape and traditions, so people can have a little bit of Tomatin as they explore and experience moments that matter."

Stephen Bremner, Managing Director at Tomatin
Each bag features intricate stitching that symbolises the hills behind our distillery and comes with a side panel which perfectly fits a bottle of Tomatin whisky. Available to purchase now for £385.
Win a bottle and a backpack
In celebration of our partnership, we're running a prize draw on our Instagram.
One lucky winner will receive a backpack and a bottle of our award-winning Tomatin 12 Year Old single malt whisky. The prize includes two whisky glasses so you can raise your own toasts To What Matters with friends and family.
Enter the competition