Today we are delighted to announce the release of the final expression from our critically acclaimed Warehouse 6 Collection – 1976.
Cask numbers 32 and 33 have been lying gracefully since being filled, gently and slowly maturing the spirit within. These extraordinary casks have been married together to yield just 350 bottles at a natural strength of 46% alc./vol.
Distilled over 45 years ago, almost 80 years after our distillery was first established, the spirit has spent the entirety of its maturation in hand-selected Traditional Oak Hogshead casks – giving the whisky a supremely distinctive and luxurious flavour.
In perfect harmony, aromas of strawberry liqueur, tropical fruits and roasted coconut balance out with an exotic spicy character to define its unique flavour. Golden syrup and marzipan add to its complexity, developing into rich chocolate, coffee and brown sugar on the palate. The exotic spices appear once again with a long, refined, lingering finish.
Our latest release, Warehouse 6 Collection- 1976, was recently awarded Gold Outstanding at the International Wine & Spirit Competition 2022 – scooping the highest possible score, 99, and proceeded to win the Trophy in the Single Malt Scotch Whisky 26 Years and over category. Only two other whiskies in the competition received a score of 99, one being our Tomatin Legacy.
Graham Eunson, our Master Distiller, said: "This is the perfect expression to conclude Tomatin's successful Warehouse 6 Collection. The first time I tried this whisky I knew it was something very special. Throughout my career, I've been fortunate enough to enjoy some extraordinary whiskies, but this one still stands out from the rest for me. Over four and a half decades of watchful waiting has seen this exclusive expression instilled with great complexity, yet it presents a tremendous youth and vibrancy which is a remarkable balance to achieve – I'll be sad to see it go!"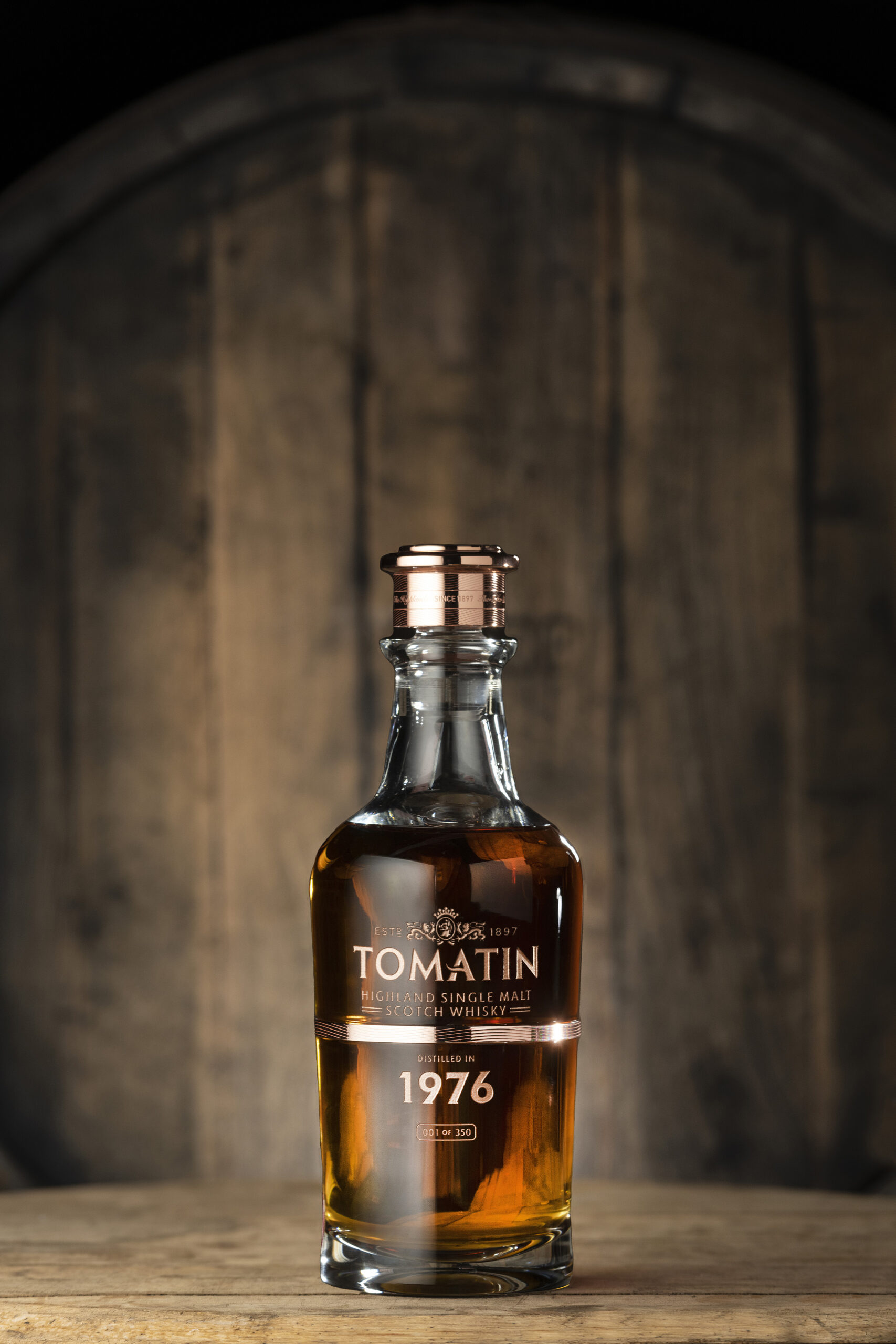 Each expression our Warehouse 6 Collection pays tribute to the Tomatin craftsmen that have been custodians of exceptional Scotch for generations. The 1976 is no different and – as with the previous luxury expressions in the series, including 1971, 1972, 1975, 1977 & 1978 – each of the 350 units is decanted into an exquisite hand blown Glencairn Crystal decanter with unique copper decoration. This luxury bottle is presented with two glasses, a solid copper stopper, along with a numbered certificate detailing the remarkable journey of the whisky.
The 1976 may conclude this exceptional collection of whiskies, but Tomatin will continue to mature their award winning single malt in Warehouse 6 for generations to come.
The 1976 will be available from specialist retailers worldwide and is expected to retail at £3800.